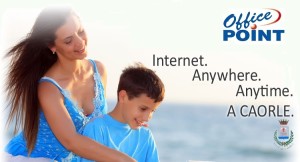 Caorle WIFI is the best way for stay connected on internet! Search with your smartphone or laptop CAORLEWIFI SSID and click on LOGIN.LOGIN
---
CHECK THE SIGNAL! Before buying CAORLEWIFI cards, check if you are under CAORLEWIFI signal zone. How to do this?
Get your WIFI connection ON
In your connection list, CAORLEWIFI must be present.
Press CONNECT and surf in these pages
Try to surf PORTALE CITTADINO or PORTALE TURISTICO pages
If anything goes right you're ready to but a CAORLEWIFI card!
Attention! No CAORLEWIFI will be refund if your zone isn't covered by signal. Check the SIGNAL ZONE on the map and check your connectivity